By Sherry Gros 07/13/2021
Below was posted on NextDoor App at about 8:00 AM on July 13, 2021. these defendants have communicated to me they have no intention of standing down and they will not ask my permission "Mother may I" to do what they want to do. But to go ahead and defy a court order… there's something seriously wrong here.
In light of the dam breaking they could have said, "Sherry we have a situation here we need to get together and figure out what to do." Instead they go into commando mode and strike out a mission of thier own. Regardless of the Court, regardless of the highland Park Community Association ownership as a non profit member corporation, regardless of anyone but their core group of about thirteen people. We need indepedant oversight with professionally trained civil engineers at this point because the dam is so rotten with years of failed "repairs" by Allen Helms that has led us to where we are today.
This is how the defendants have been behaving since 2015 and this is a shining example of why we are in court today.
On Thursday two engineers inspected the dam. They said, there are a lot of holes in the dam, the concrete has failed, patching it will not fix it anymore, and it is a public safety hazard. I will receive the full report in two weeks.
Allen HelmsHighland Park • 22 min agoUpdated on Lake Patching & Legal Saga. Update on legal case: Judge will hear oral arguments regarding our motion to dismiss on July 30th at 0900. We are also petitioning him to allow us to patch the breach. If authorized we will conduct the repair on Thursday of this week. We are also in discussions with a contractor and are currently finalizing a plan to replace the standpipe, sleeve the drain pipe and solidify the spill way and dam. This plan is also being reviewed by a licensed engineer. Once this plan has been finalized, along with a Rough order of magnitude (ROM) for the complete repair of the dam we plan on conducting a meeting to brief the community and obtain your buy-in regarding the path forward. In the meantime, if you have any questions, please feel free to contact one of your board members.Posted in General to 2 neighborhoods
Like
CommentShare
---

I'm going to have to petition the judge for a psycological evaluation for the defendants. Because who in their right mind publicly violates a Court Order? I shudder at the thought of this. It's one thing if you unintentionally overstep but this is beyond the pale. You think so little of the Court Order and this is a neon example of how little you regard the HPca bylaws and articles of incorporation and why I had to take you court. In the words of one of your former board members. "They are running so illegal I wont serve with them again. They know it and they don't care." Add a Photo or VideoAdd locationComment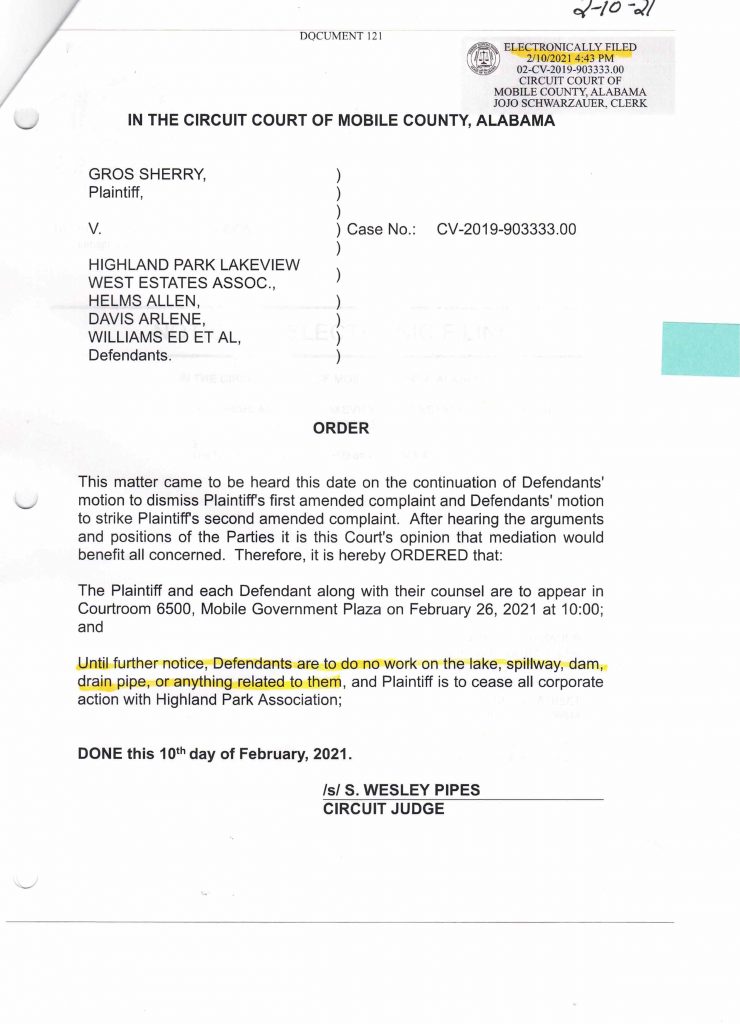 Update: 10:03 am 07/13/2021

Sherry Gros • Highland ParkAllen you need to stop. https://highlandparkcommunityassociation.com/2021/07/13/defendants-violate-court-order-in-optimist-lake-dam-case/23 min agoLikeReplyShare
Steve Albrecht • Lakeview West EstatesSo, they should ask you, Mother of the lake, for permission instead of the judge?9 min agoLikeReplyShare

Sherry Gros • Highland ParkThat's the wrong perspective. But another example of the effective ground campaign "grooming" you have received from the defendants. Your core group cannot see that their are laws in play. Shame.Just nowLikeReplyShare
Update 10:38 AM
Steve Albrecht • Lakeview West EstatesThis coming from a self proclaimed president and "Mother of the lake" without election from your neighborhood, legal expert, environmental expert, dam expert, jury and judge.12 min agoLikeReplyShare

Sherry Gros • Highland ParkYou don't understand how a nonprofit member corporation operates under Alabama State Law or you would not be repeating here what you are being told by the defandants at the "meetings"Just nowLikeReplyShare