Part of a Series published for The Highland Park Review
by Sherry Gros 02/12/23
Part #3 – Spring Lake
Regarding "Optimist Lake aka Spring Lake" as referenced by this author's website: https://www.saveoptimistlake.com/ Fact or Folk Story?
Camp Optimist (now Spring Lake Subdivision) opened in June 1950 to serve underprivileged boys. Tonsmeire, Swanstrom, and Roxie G Lee (owner of adjacent lands to the area and Operator/Manager of Camp Optimist) were philanthropic business men who also donated a portion of their wealth and time to these youthful beneficiaries. Swanstrom (owned the Lake adjacent to Camp Optimist) went into agreements with Mr. Lee and Camp Optimist (Tonsmeire land) that the young men could partake of the Lake as camp life requires. Camp Optimist closed in 1977. According to the news report of the day below it sounds very lovely. Let's look at the documentation.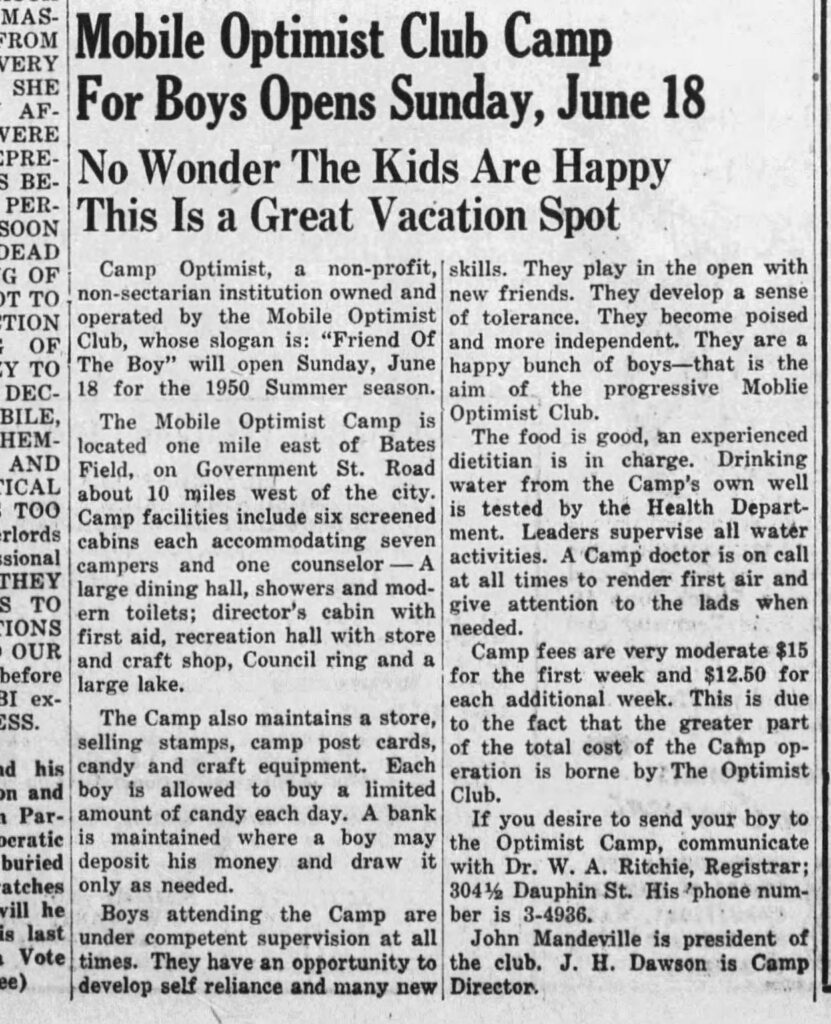 Below is a link to the HPca deed. It tells of the conveyance of the lands between Carl Swanstrom speaking of certain agreements attached to the lake. This is not to be misconstrued as a covenant that runs with the land. These agreements were vacated and terminated at different times under law or by written agreement. We have the documentation but will reserve it for another part in our series Folk Stories of Highland Park – Fact or Fairy Tale.
In the linked document below, filed with Mobile Judge of Probate, on page 761 starting with "In this connection however this conveyance…" and ending on page 762 first paragraph with "Esther V. Swanstrom" https://highlandparkcommunityassociation.com/timeline/hpca-deed-1967/ The intent is clear.
In summary, from 1950 to this day the lake is known by more people as Optimist Lake. It was however referred to as Spring Lake by at least a couple people in the HIghland Park area for a very short period of time. But how did a few people come to say Optimist Lake was "aka Spring Lake"? Let's look at some documentation.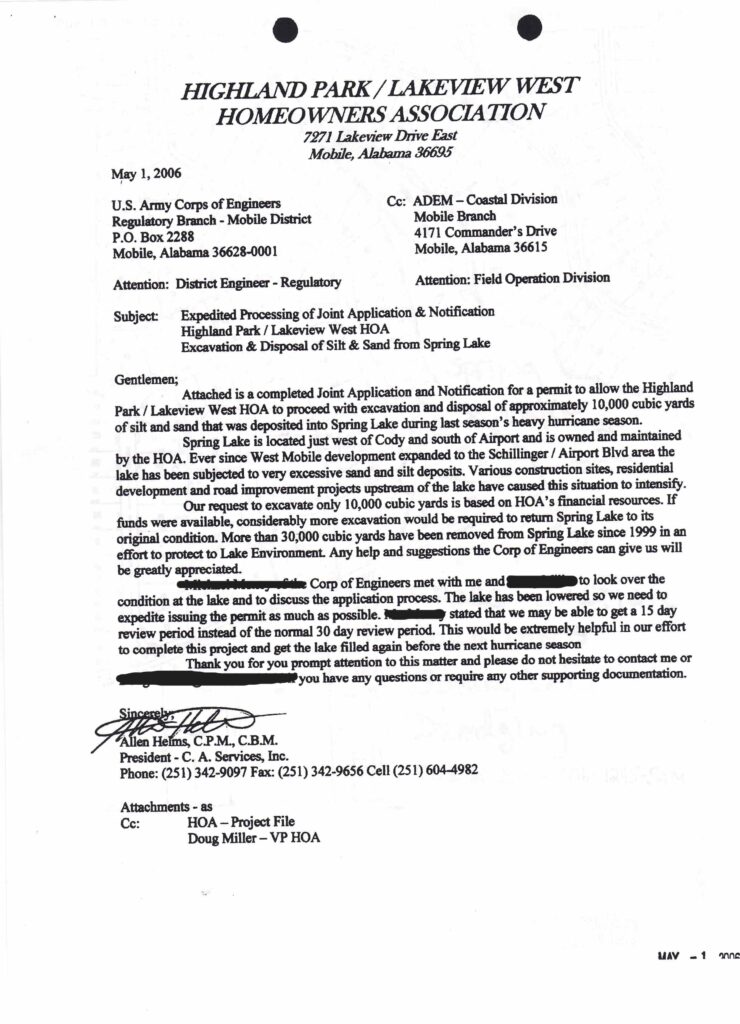 As we can see from above, Optimist Lake is frequently referred to as Spring Lake by Mr. Helms. I can find no other documentation referring to Optimist Lake as Spring Lake other than Mr. Helms references. If you have any documentation that refers to Optimist Lake as Spring Lake please share.
In the meantime, This Highland Park resident debunks the Folk Story that Optimist Lake is aka Spring Lake.