Here is an essay written by Forrest W. Coffman of University South Alabama giving a brief description of Optimist Lake, a reservoir in the Dog River Watershed. It was written in the early 2000s and contains valuable historical data although some updates need to be done. For example, Optimist Lake dam was completed in 1937 as a "Dust Bowl Dam" Please see our corresponding article referring to Dust Bowl Dams.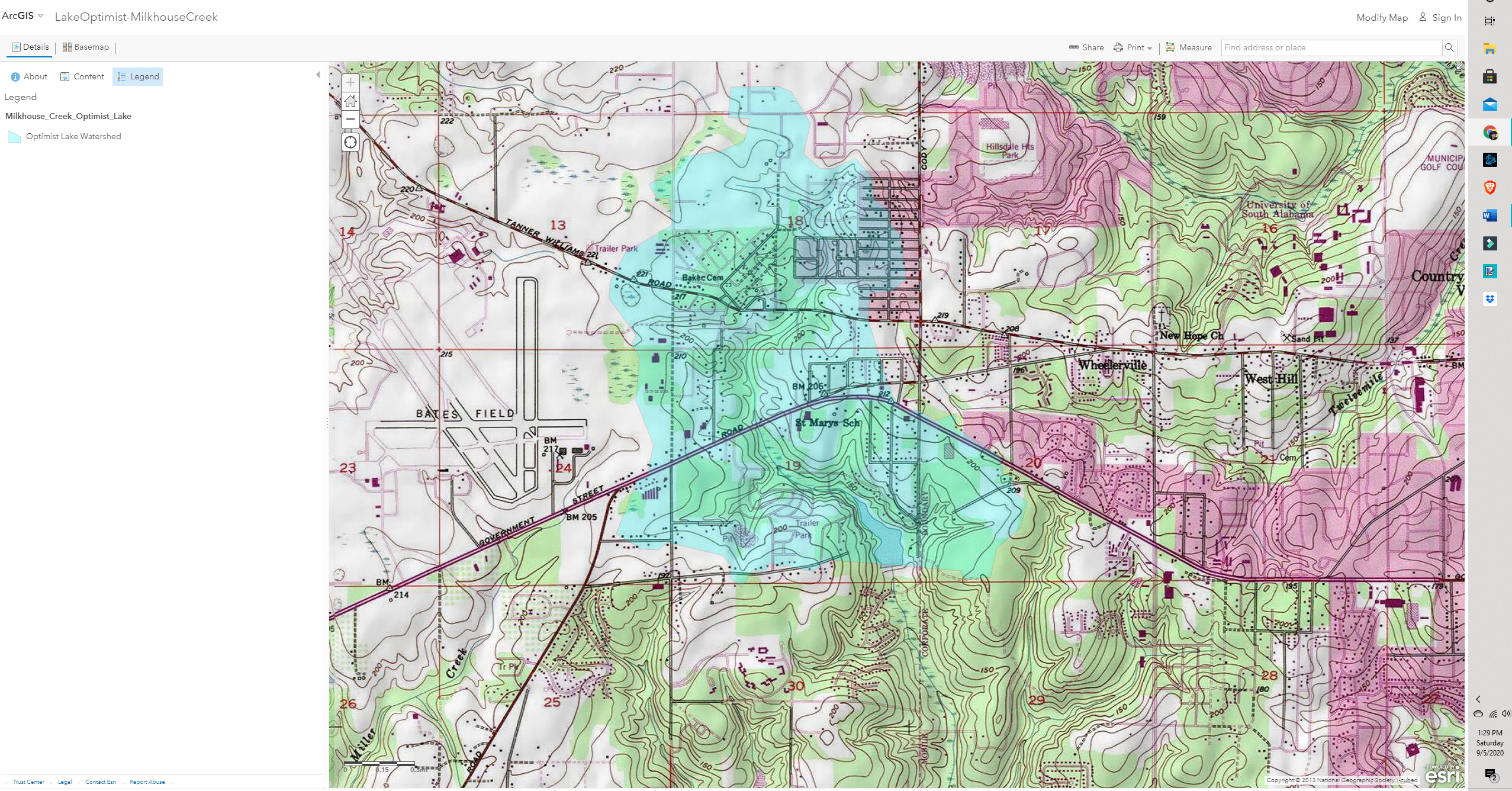 Dog River Watershed. Optimist Lake is an integral part of Milkhouse Creek and the Dog River Watershed. It is fed by underground springs, rainwater, Milkhouse Creek from the north, and the watershed which is highlighted in blue on the map. The watershed covers an area of 1,445 acres or 2.25 square miles. The water that comes into our lake from the surrounding 1,445 acres of watershed directly affects the quality of water at Optimist Lake. The better the quality of water the healthier the surrounding ecological system and the healthier our property values. One of the goals of Highland Park Community Association is to keep the waters of Optimist Lake Reservoir clean to "…maintain the lake in good condition…" and to keep it "reasonably free from pollution and debris or obstructions." This mission is mandated in a deed from Carl Swanstrom to HPCA in 1967. Testing the waters for ecoli is one way of honoring this deed and providing for reasonable maintenance promoting general public health and safety. Working together for a clean Optimist Lake Reservoir is a win-win-cannot-lose proposition that benefits homeowners property values, surrounding stakeholders health, and the Dog River Watershed ecosystem. Please donate to the cause and thank you for your support. https://mobilebaykeeper.networkforgood.com/projects/102157-sponsor-a-swim-site-milkhouse-creek-at-optimist-lake
Reference Links:
Mobile Bay National Estuary Program
Dog River Watershed Management Plan
Optimist Lake Reservoir is part of the Dog River Watershed and acts as a buffer to surrounding federally protected wetlands.