By Sherry Gros
Freelance Writer for HIghland Park Mobile AL
08/11/2021

Highland Park Community Association would like to thank Avalisha Fisher and Michael Catrett of Driven Engineering, Semmes Alabama for providing us with our Dam Safety Site Inspection for the year 2021.
Below is a scanned image of the site inspection at Optimist Dam in Mobile, AL.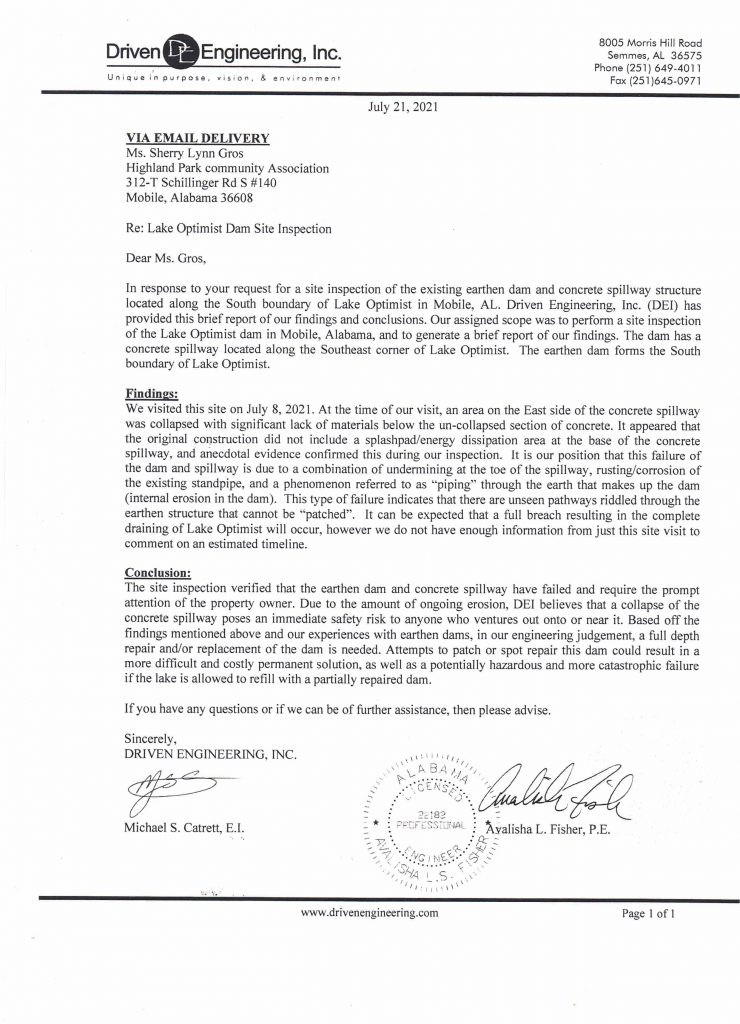 Based on the conclusions of this report along with supporting opinions from the most respected and well known earthen dam civil engineers in the Mobile area, the statement below is issued to the public at large by Sherry Gros, President of HPca, for their perusal.
"DANGER STAY OFF THE DAM AT OPTIMIST LAKE I just got off the phone with HPca civil engineer, Avalisha Fisher of Driven Engineering. It is imperative that EVERYONE understand and take to heart the warning of Avalish Fisher of Driven Engineering that the dam is not safe at this time. Believe her when she says patching will not repair anything at this point. There are too many holes in the earthen dam. When it comes down it will come down without warning maybe with someone on it. Patching the dam gives the public a false sense of security. HPca is fighting an adversarial element giving false public information. Do not let false information lead you into harms way! Please for your own safety and the safety of your loved ones STAY OFF THE DAM. Sherry Lynn Gros, President, Highland Park Community Association, Inc."
Per the 2020 HPca Lake Management Plan it is the intention of this Board of Directors to have an annual Dam Safety Inspection from now on going forward.
HPca 2020 Emergency Action Plan (EAP) was implemented at the last breach in June 2021 by the Board of Directors.